Do you want to mark your skin with a tattoo for life that reflects something important to you? Are you looking for a tattoo studio with guarantees to tattoo yourself? Would you like to try a new studio to get a tattoo? Next, we tell you the best tattoo parlors in Madrid, Valencia and Barcelona. Ready, to discover them?
There are many people who choose to get a tattoo in some corner of their skin, with the purpose of having a memory of something special forever. Marking a person's skin is one of the most difficult decisions to make. Be clear about what to do, how to do it, the perfect size … It can often be a headache.
In this type of studies that we are going to tell you next, in addition to getting the tattoo, they can advise you on what is the best design, the best part of your body where to do it, the colors, the size, everything with which you still have some doubt.
Madrid: it is one of the cities where this type of premises or professions succeed, either because it is the capital of Spain or simply because it is a profession that will always exist.
We mention some of the best tattoo parlors in Madrid:
1. La Mano Zurda – Calle Apodaca, 1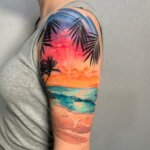 This studio is located in the neighborhoods of Malasaña and Sol. It has at the disposal of the client three rooms to tattoo, in addition to a room of creations, where each of the designs that will be tattooed is made, following the indications of each person. Likewise, all the professionals who work in this studio are graduates in Fine Arts, so the final result will have an unbeatable quality.
In this tattoo studio you can find more than 15 different styles, so it will not be difficult for you to find the perfect type of tattoo. It is considered one of the best tattoo studios in Madrid and there are many who are fascinated by its tattoos, which you can see on their social networks.
---
2. Mao & Cathy – Moon Street, 7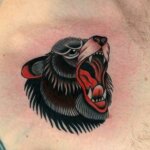 This tattoo studio is not only the oldest in Spain. In addition to his professional career, he has a team of prestigious professionals and top quality material to make the best tattoos in Madrid. His tattoo artists are trained periodically in international conventions to show and improve their work.
Mao & Cathy has a multitude of international mentions and awards, and today they have two studios in operation in the heart of the Madrid capital (Callao and Malasaña), where you can give life to your body with their designs. It is considered one of the best tattoo studios in Madrid.
---
3. Love Tattoo – Calle Fernández de los Ríos, 58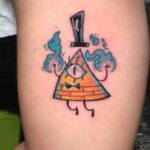 This tattoo studio is considered one of the best in Madrid, it is formed by professional artists and tattoo artists who have years of experience behind them. They make tattoos mixing art with a unique and spectacular design in a good work environment, so that customers feel at home.
They work any style of tattoo: tattoos with custom designs, color tattoos, black and white, geometric, realistic, pointillism, mandalas, minimalism, traditional, neotraditional, or Black Work among others.
Valencia: one of the Spanish capitals with more art, it is always the cradle of design and therefore in Valencia you will find a great selection of tattoo parlors. Some are as follows:
The best tattoo parlors in Valencia:
1. Dermatopia – Calle dels Vivons, 25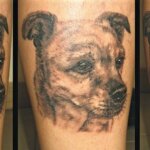 Dermatopia is another of the best tattoo studios in Valencia. Her job is to make artistic tattoos, her tattoo artist, Amelia Martínez, is one of the most recognized tattoo artists in Spain, she has won several awards in the design sector.
In this studio you can get the best realistic tattoos in the city, more emotional tattoos such as letters or important dates or watercolor tattoos.
---
2. Calypso Tattoo & Piercing – Constitution Avenue, 180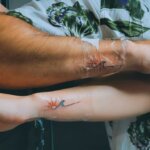 This studio is considered one of the best in Valencia. In addition to being able to do all the tattoos and piercings you want, they have a space for the world of hairdressing and barbering. They also have an academy where they teach courses related to the tattoo sector.
This tattoo studio has all the hygiene measures. They make earrings to babies, erase tattoos with laser, among other services.
---
3. Tropican Tattoo – Calle Albal, 5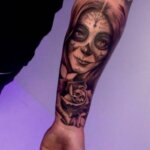 In this tattoo parlor located in the center of Valencia you can draw on your skin any idea you can think of. They are specialists in any design, although they stand out for realistic tattoos.
In Tropian Tattoo they have a team of professionals specialized in different styles that can recreate from the most normal in the world of manga to the most innovative and creative.
Barcelona: the Catalan capital is one of the cities that gives off more art, so it is home to some of the best tattoo parlors in Spain. Some of them are as follows:
The best tattoo parlors in Barcelona:
1. Gypsy Garden Tattoo – Calle del Tenor Masini, 22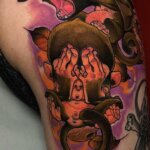 This tattoo parlor, besides being one of the best in Barcelona, shows creativity in each of its corners.
Its professionals are specialized in color and also in the old and new school. Their 'team' is made up of three permanent artists and each month they receive a guest tattoo artist, who is responsible for the designs of the clients of that day.
---
2. Selidor Tattoo Studio – Calle d'En Prim, 170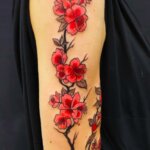 It is considered one of the best tattoo parlors in Barcelona, its experience of 25 years in the sector, protects them. In this studio, in addition to making the design you have in mind, they also advise you on what is the best tattoo option.
You can get a perfect tattoo, retouch one you have already done or erase one permanently with laser. They also do piercings.
---
3. Family Art Tattoo – Calle del Regomir, 18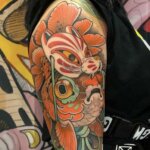 It is considered one of the best tattoo parlors in the Catalan capital. They offer a wide variety of styles: from the Japanese of Nicklas Westin to the cartoon, passing through the new school of Koan, the best known tattoo artists of Barcelona.
They stand out for their mastery with color and technique, in addition to personalizing tattoos they make realistic drawings inspired by the corners of the Rambla, where their place is located.