WHERE TO EAT THE BEST POTATO OMELETTE IN MADRID?
There are those who prefer it with onion, others without onion, some more or less curdled, and others that do not fall apart. More or less oily, bland or salty, with or without tripping, with crushed potatoes and uncrushed. Surely for you the house of your parents is the best but, letting others prepare it, we are going to recommend the best places in the Spanish capital where to eat this historic property. Is your mouth watering just thinking about it? Get ready and choose the best potato omelette for you.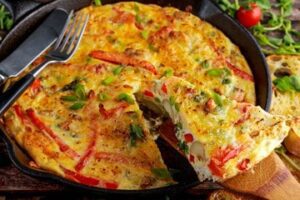 Casa Dani – Calle Ayala 28
Is Casa Dani the best omelette in Madrid? Born in a bar in the Mercado de la Paz, she is an incombustible hit that keeps her tricks to rehearse the recipe; From a careful and demanding selection of ingredients to the steps to curdle it perfectly and, perhaps this is what has made this humble bar one of the best known in the Spanish capital and that is always in the mouth of the recommendations to take a good potato omelette.
Also in 2019 he won the Bar Award of the Madrid Academy of Gastronomy. But especially in March 2019, his recipe was the winner of the 2nd National Tortilla Championship held within the International Potato Gastronomic Forum in Tenerife.
We do not know if it will be the best tortilla in Madrid but what is clear is that you can not visit the capital and leave without trying the Casa Dani omelette.
Sylkar- Calle de Espronceda 17
Andrea, Mónica and Victoria demonstrate every day in this bar in Chamberí how to prepare an omelette that makes their followers pilgrimage from any corner of the capital. The place is small and with a "vintage" decoration of the real ones.
Despite its extensive menu of traditional dishes, Sylkar is known only for its potato omelette. Very juicy and little curdled. There is no way that when serving it does not disassemble a little, but that is the least of it. Potato and onion have practically the same consistency, and that makes it delicious. When you see it always comes to mind how they will turn it over, but when you start eating it you can only think about how good it is.
Taberna Pedraza – Calle de Recoletos 4
If there is a dish for which this famous tavern is known that has won the affection of the palates of Madrid, it is for its omelette in the style of Betanzos. Since its opening on April 10, 2014 on Ibiza Street (before its move to Recoletos Street), the restaurant has already served more than 50,000 tortillas, as indicated by the counter that crowns the entrance of the restaurant.
Each and every one of them has been personally prepared by Carmen Carro, who perfectly masters the technique and recipe of the omelette in the style of Betanzos, who only bets on potatoes, eggs and salt.
La Ardosa – Calle de Colón 13
Going to La Ardosa is synonymous with eating and drinking well. And, in this centennial food house, existing since 1892, they prepare a potato omelette to dip bread. So sinking your teeth is enjoying a juicy and exquisite omelette. And accompanied, the command, with its croquettes or Russian salad, success will be more than assured.
If you are in Neptune or Cibeles, pick up speed and run towards Colón Street to catch a table, because at the time of the aperitif not a soul enters and only the smartest are made with their wonderful potato omelette skewer and their fabulous vermouth accompaniment.
Colósimo – Calle de José Ortega y Gasset 67
Of the last to arrive, just a year ago, José Manuel and Ricardo Romero, two young brothers from Cádiz who decided to undertake their most personal project of traditional cuisine with technical details based on traditional recipes. And it is that Cólosimo does not stop triumphing in the capital, and much of the blame for it is its delicious potato omelette. The perfect balance of good potato well confit, little curdled egg and poached onion at its optimum point is what this famous Madrid place offers. Just to enjoy its potato omelette the visit will have been worth it.
These are just some of the recommendations of the places where the potato omelette is its star dish of the menu, but there are many more, you just have to find the best one for you, the palate is ready and will help you discover it.