6 IDEAS OF COLLECTED FOR WEDDING
The wedding season arrives, one of the most beautiful stages for those who get married and the exciting ones for those who accompany them in the link. Do you have a wedding in the next dates? Don't know which is the best pickup for that dress that you have bought? Do not worry because in the following article we tell you what are the latest trends in terms of wedding hairstyles. Ready to discover them?

1. Low pickups
Along with the casual collected this type of hairstyle for parties is one of the most famous collected for weddings at any time of the year and also never go out of style. This type of pickups are perfect if your dress is necklined. At the end of the day a pickup has to go according to your personality and should make you feel comfortable.
2. High pickups High
bows for guests are remembered by the location of the bow above the head. Also, this hairstyle offers many ways to place it, either high or wide. In addition to taking into account the hair style of the person who wears it that can be straight or curly. As for decoration, to decorate the high collected you can choose to include a tiara, headband or other type of headdress, which are very common at weddings.
3. Collected with braids The picks with braids
are also another wedding hairstyle that is still fashionable. Both bows with braids and collected ones are very popular and usually look great with any type of dress. This type of hairstyle also gives a vintage touch to the guest's clothing. You can opt for a hairstyle with thinner braids or choose a collected with more marked braids.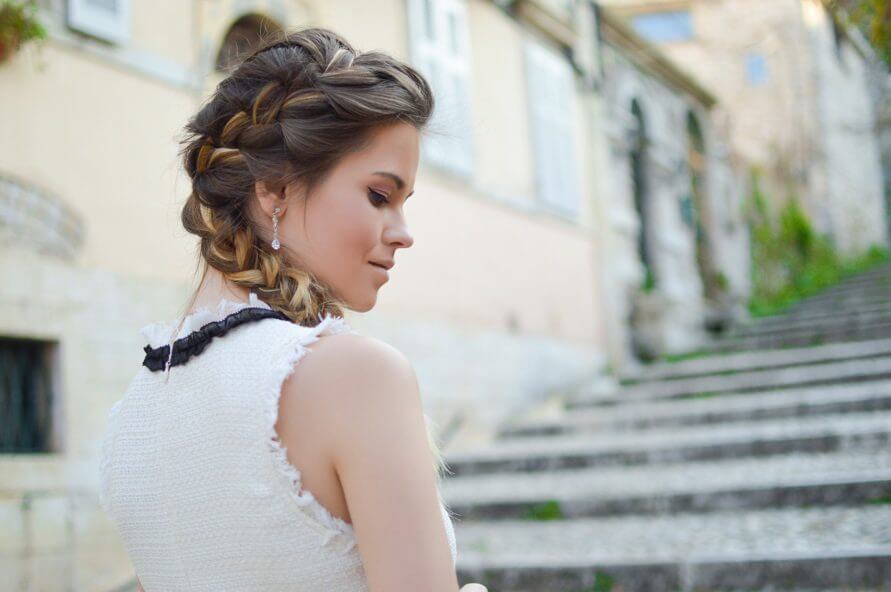 4. Collected from half hair
The hairstyles with undulations or ringlets are a success since they remind us of those collected from the time of Greece typical of the movies. Their more casual appearance does not make them less elegant. The key to not getting confused with this type of collection is to put ready the hair that you are going to treat previously, that is, have it completely wavy (it does not matter if it is a natural way or using the tongs).
5. Retro collections
If you love vintage fashion, you may dare to wear a hairstyle of past generations. This type of hairstyle is typical for people who have short hair and only have to make a few small undulations to give their hair that retro touch they are looking for. It is a collected that fits perfectly with oval and square faces. As for makeup, it is advisable to use it with transparent shine on the lips, to give more prominence to the hairstyle than to the face itself.
6. Pigtails
Sometimes we think that hairstyles with pigtails are very simple or basic to go to a wedding, but nothing is further from reality, because this type of collected helps to favor the female silhouette and gives a fresh air to the beauty of women. If your hair is long you can always make a small decoration at the beginning of the ponytail and the rest of the loose hair and on the contrary your hair is of the medium length, you can make a ponytail with your own hair and decorate it with some flowers typical of weddings.