Where to buy a good ham for dinner? Questions like this arise as people want to have the best for these dates.
Sausages are one of the essential starters at any dinner, but more so at Christmas. Therefore, many families try to get the best ham for their table. There are many people, who are looking for solutions online, so as not to run out of the favorite starter at Christmas, sausages.
Spain is one of the countries, where thanks to farmers, they have the best sausages in Europe. Spanish livestock is one of the most valued nationally and outside our borders. Many tourists when they visit Spain, usually take some sausage, either sobrasada, black pudding or even a good ham.
And, farmers work throughout the year, taking care of their animals. So that in special times, such as Christmas, customers have on their table, the best sausage. Thanks to their work, in many parts of Spain, hams are one of the most valued products. Many of these, have in their upper part, the green label, of denomination of origin. A hallmark, which makes it a product, more demanded and above all more authentic. Looking for this green label on hams is one of the main objectives for customers.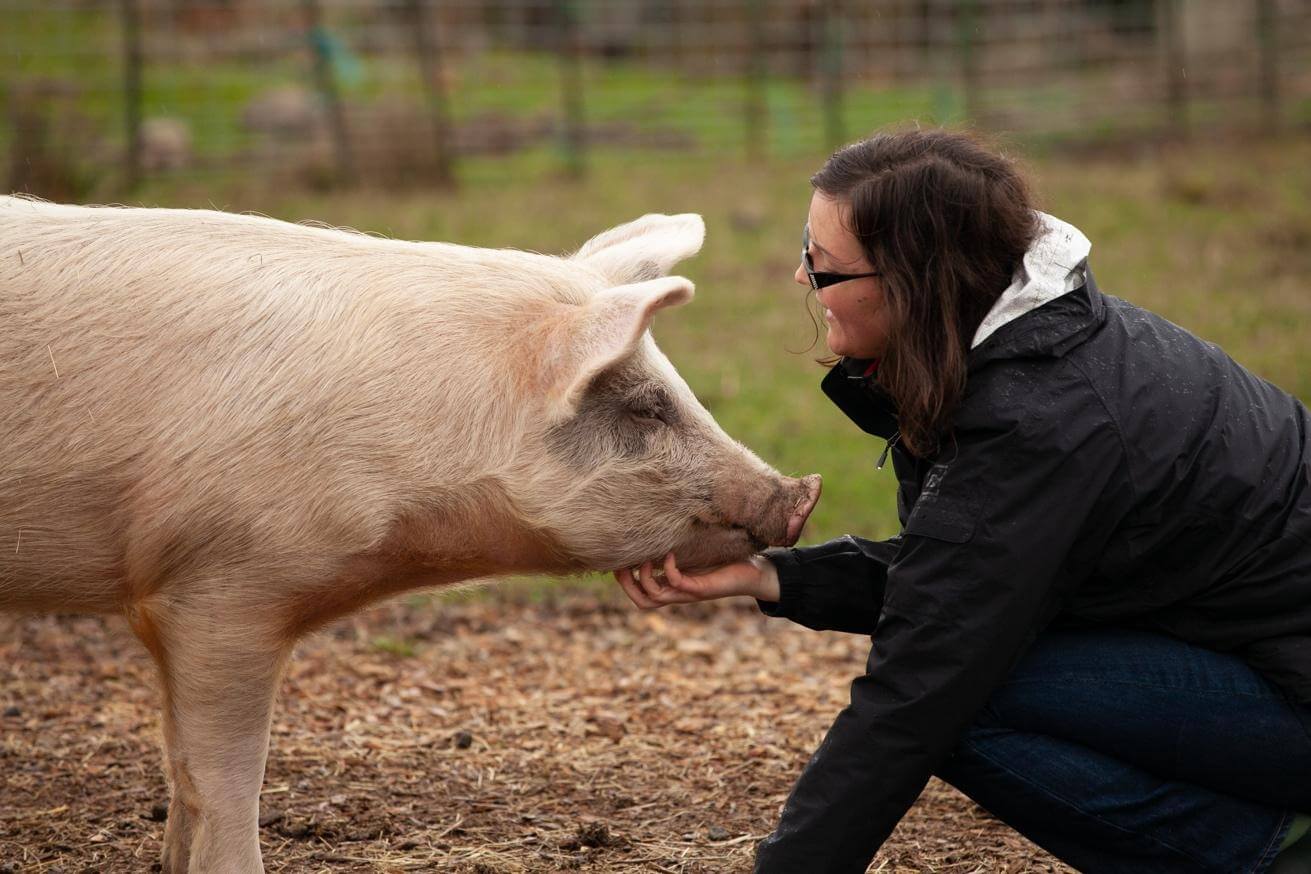 With the rise of new technologies, there are many who have changed the traditional cart and the market, for the sale-online. And looking for products such as sausages on the Internet is no longer just a matter for young people. Many families bet on this initiative and buy most of their food online. With the hustle and bustle of Christmas, this initiative has been encouraged, and many wonder where to buy a good ham online?
Experts recommend looking at the green label, which comes with the appellation of origin. Since many hams do not have it. Having this label, assures you the quality of the ham or sausage, which you are going to buy. Also, keep in mind that being a food product, rarely, it can be changed. Therefore, it is very important to look at the green label. Since being online, if you have it, it will be the first thing they teach you about the product (Marketing issues). And if you don't see it in the first photos of the product, don't trust too much. Little tricks to buy a ham online.
But, once we know what we have to look for when buying a good ham. Surely you are asking yourself the following question: what are the best stores to buy a ham online? Next, we tell you some of them, are you ready to discover them? Let's get to it!
1. The House of Ham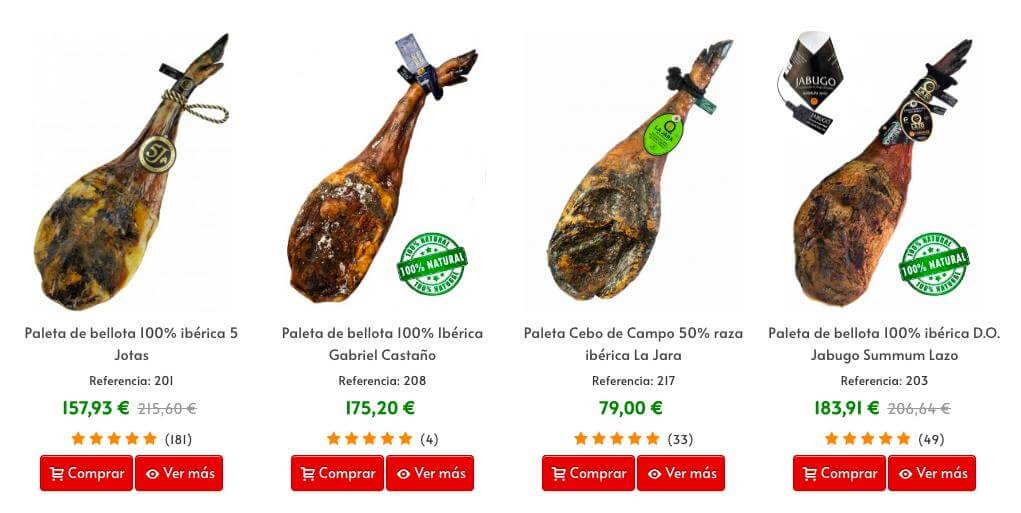 This store, in addition to having physical establishments, also has an online business of sausages, mostly hams. In their online store, you can see hams of all kinds, most of them have the green label. The price is also an important factor to know if it is of denomination of origin or not. Since those of the green label, are more expensive, than those who do not have it. La Casa del Jamón is one of the best shops to buy a ham online. There are many who bet on their products in special times and are not disappointed.
2. Joselitos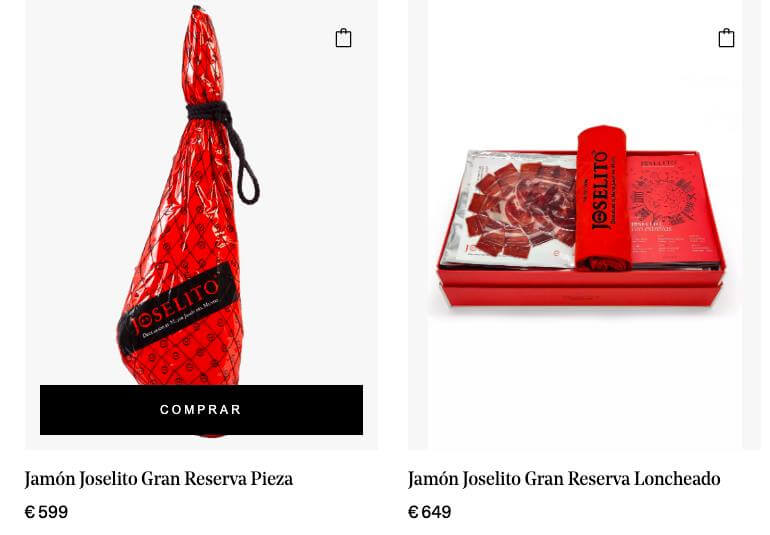 This store is one of the best in Spain, its quality in all its products, is its hallmark. Although the price is quite high, it goes hand in hand with the quality of the hams themselves. If you want to get the best ham, do not think twice and fiddle with their website. Those who have tried it, repeat Christmas after Christmas. Plus, they sell it sliced, so you just have to put it on your table. Facilities of all kinds and gourmet products. One of the best stores to buy a ham online.
3. Enrique Tomás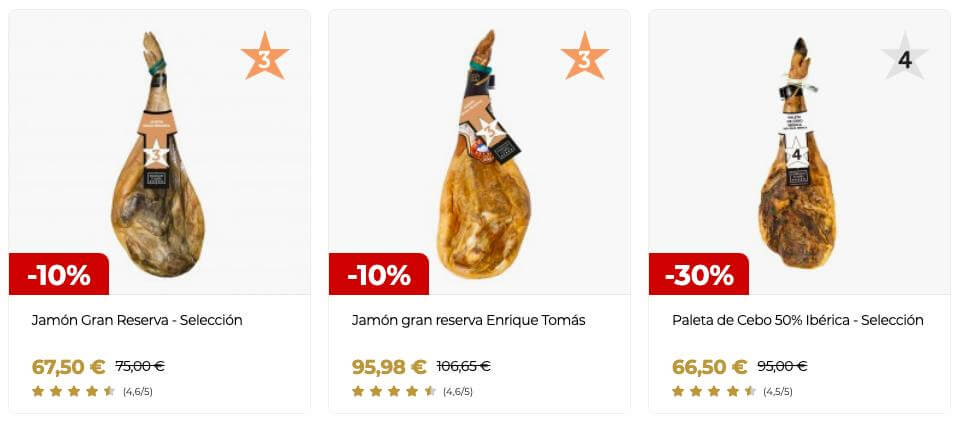 All its hams or shoulders have been produced and cured exclusively in the Iberian Peninsula. It is one of the best stores where you can buy a ham online. It has a shipping system throughout Europe, in a few days. They have hams of all types, serrano, acorn-fed hams, Iberian etc. In addition, they also make baskets, for companies. Everything you've ever dreamed of, they have.
4. Five Jacks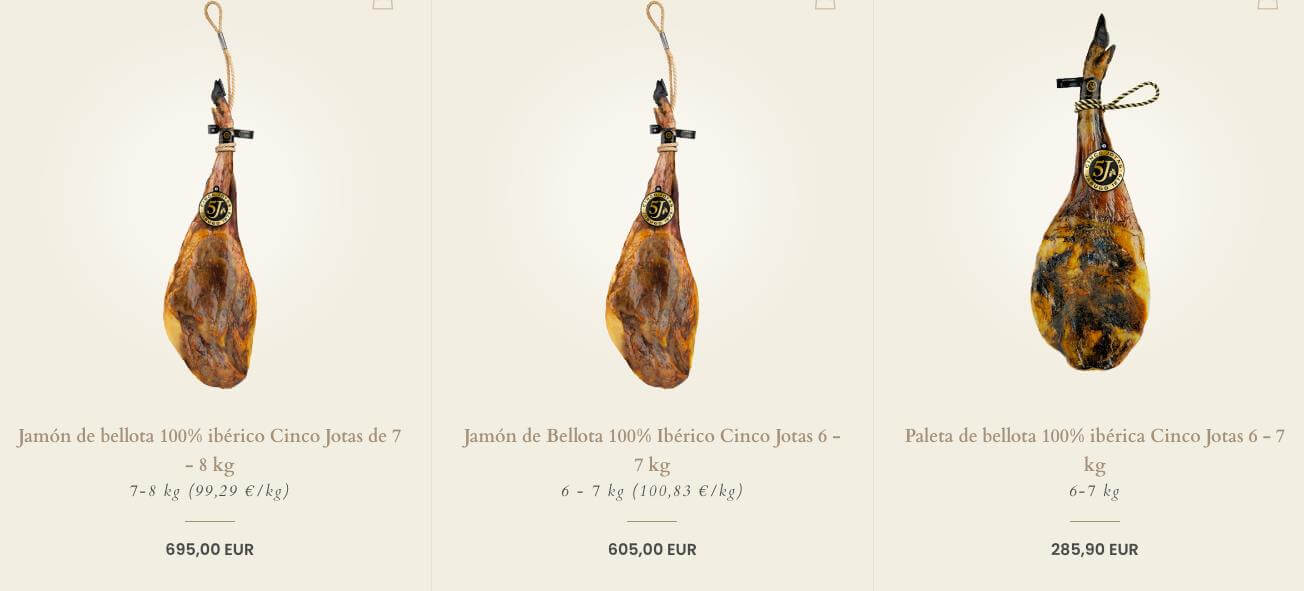 It is one of the best online stores, where you can buy a ham online. Their products are of a very high quality, which makes them a gourmet product. Buying a ham from Cinco Jotas, you guarantee, have one of the best hams on the market. Families who have opted for one of their products, repeat. Although, its price is high, quality goes hand in hand. In addition, they take a few days to send you the product. Everything is facilities.
These are just some of the best shops, where you can buy a ham online, but there are many more. It's just a matter of searching, the one you like the most. Of course, as we mentioned before, it is very important that they have the green label or some distinctive, which indicates the denomination of origin.
What is clear is that online sales are growing alarmingly and there are very few who continue to go to the markets. Buying a ham online is not a bad idea. What's more, you may be much luckier than those who buy it physically. Choosing the product you want, many times is mission impossible. Thanks to online sales, you can always choose and see several products and buy the one that convinces you the most.
However, in a traditional delicatessen, you may be lucky, like not. It's a coin in the air. In online stores, having so many, if they do not have it in one, you can choose to search in another, until you find the best. All are advantages in the new era of digitalization. But, without a doubt, finding the best ham for everyday or for a special occasion is never an easy task. Either online or physically.
Tf. +(34) 633 66 88 45 / o vía email: office@buscatea.com